Visual design of convergent apps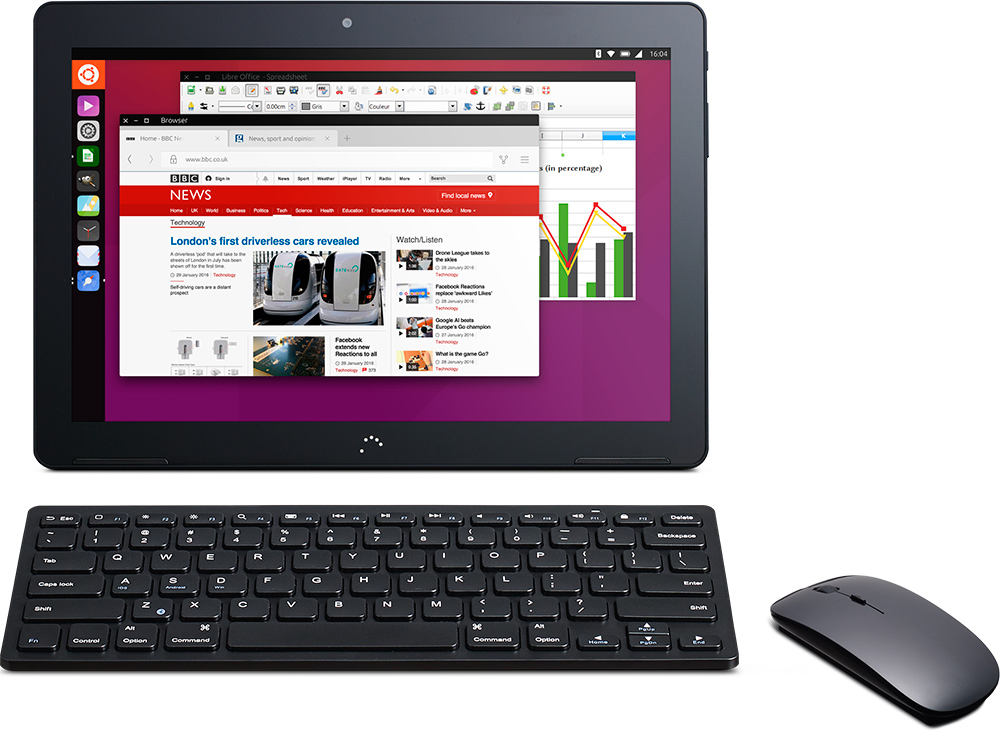 It is an exciting time as we're starting to see more and more of the new, convergence-enabled UI toolkit and features for Unity 8 come to life. Some classic X11 apps (Gimp, Libre Office and a few others) are already running on Unity 8 using new hardware from our partners, including the award winning M10 tablet from BQ – very cool.
At the same time, we want to help people write or port more applications to our platform, using our modern UI toolkit designed to smoothly flow the user experience through touch and pointer inputs, a range of screen and keyboard types and all of the permutations in between! It has been an interesting design challenge to imagine, design, and begin to build a world where all interfaces, regardless of input type or form factor, all emerge from the same core user experience and design language.
Where we are now
Our UX and SDK teams have been working on version 1.3 of Qt based UI toolkit, which allows developers to write applications that can be used comfortably with both touch and pointer interfaces. The work is still very much in progress, but some of it can be used today. You can check out the developer docs here.
Suru, our visual design language, has evolved into a new, much lighter, flatter and modern approach. It not only looks great (in our humble opinion), but helps app developers design good looking and well-functioning apps with less effort. Continuous visual and user experience refinements will will be rolling out across the whole OS (scopes, shell and apps) this coming year.
The new design guidelines for UX and UI patterns as well as Suru will be out soon. In the meanwhile hopefully these example apps will inspire you to have a look at the developer docs, get active on IRC and have a go yourself. We will also be releasing design source files and templates for the refreshed UI toolkit so that you can start applying them in your own app designs.
Dekko – Email
The first example app is Dekko – the default email client  for mobile and tablet devices from BQ and Meizu. We have been very lucky to have the incredible talents of our community member Dan Chapman working on the development of Dekko, and the app is progressing at a fantastic rate. James Mulholland helped Dan with the UX and I have been working on the UI.
Like many apps, Dekko uses a list view to represent the primary level, and a detail view to show the secondary level. Where there's room, these views can be displayed side by side, but on small screen screens or very shrunk windows, a PageStack showing only the list becomes the primary screen. On larger screens or expanded windows, the page stack automatically progresses into the familiar two-panel configuration. This adaptive layout is common on responsive websites, and our SDK team have built a component in the UI toolkit that does most of the hard work for you – AdaptivePageLayout.
The list item, which lives in the list component, is another example of ready made component that helps developers write convergent apps with less effort. The new ListItem in our toolkit has useful, well designed default layouts baked in when using ListItemLayout. It is also optimised for both touch and pointer interaction – via ListItemActions. A common pattern of interacting with list items on touch devices is to drag them left or right revealing key actions such as delete. When using a pointer, however, you would typically right click and use the contextual menu to access the same actions. Our UI Toolkit supports both types of input at all times, so you could drag the item left or right using a mobile or touch-enabled monitor, or right click using a mouse. We believe users should be free to mix how they interact with our components using whatever means is at their disposal and to their liking.
This behaviour is already baked into our ListItem component, so users will have a consistent experience when using apps, and developers will save time not having to roll their own solutions.
Music

The music app is another example of the super talented Ubuntu community getting involved in building some of our core apps together with our internal teams. You might remember Andrew Hayzen and Victor Thompson from a previous interview on this blog. They have since been adding features and functionality to the app, and a convergent music app using multiple panels is currently working in a branch and will be landing in the master release soon. We are also looking at adding support for streaming music functionality, keep an eye out for this in the near future :)
The multi-panel music app reacts to window size changes intelligently – the album cards resize and shuffle themselves on window size changes. On smaller screen devices we have a persistent "Now playing" control bar at the bottom of the screen, but on larger screen sizes we have enough real estate to reimagine the play bar as an extra panel on the right with "Now playing" information, along with cover art, controls and a scrollable queue.
Calendar
The calendar app has been on the phone for a while but until now it hadn't really had any UI design love or designs for larger screens.  We wanted to apply our visual language in the context of an app that is by default very minimal, allowing the few design elements to stand on their own.
Suru, our visual language, is light and flat, minimizing distractions, with carefully selected tones of gray, consistent spacing and margins to help the content breathe. We've added considered splashes of highlight colours that enhance the visual hierarchy without overwhelming it.
On the calendar app we are again making use of multiple panels, surfacing several layers when we have the real estate available. The same feature set of the app is of course available on all sizes, and the navigation feels intuitive with whatever input method or screen size you are using.
This design hasn't been implemented yet, and in fact we are looking for new developers to join our Community Team. If you are a developer who would like to get involved in writing some of the core apps people use on Ubuntu – get in touch with alan.pope@canonical.com – we would love to hear from you!
Hopefully these examples have given inspiration and pointers to anyone who would like to have a go at designing apps for convergent Ubuntu. If you have any questions, don't hesitate to reach out – jouni.helminen@canonical.com

Read more